With the development of digital technologies, trading on world exchanges is taking place online more often. But this does not mean that any exchange can afford to trade around the clock. As before, there are certain opening hours and a clear schedule. Moreover, stock exchanges are still strongly tied to their geographical location, time zones, and the laws of the countries in which they are located. Due to the location of exchanges in different time zones, trading on the world stock market takes place almost around the clock.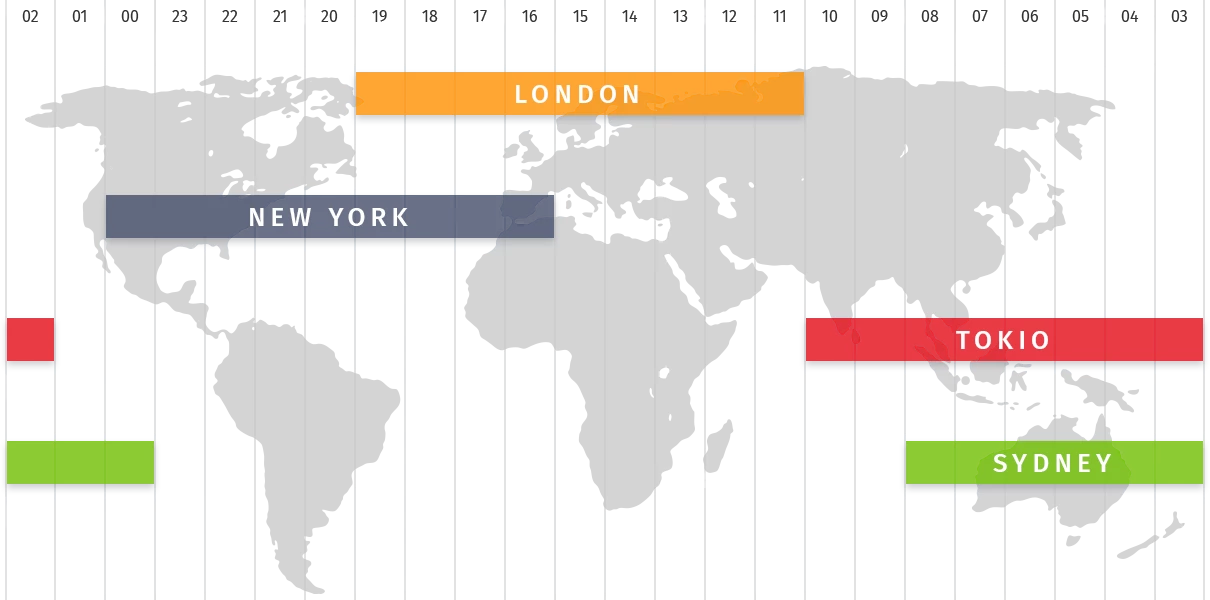 A trading session is the time when the stock exchange is open. Trading sessions are not held on weekends: Saturday and Sunday.
The trading session is divided into:
Pre-market — allows traders to purchase the desired shares at the best price at a special trading auction. Issuers of these shares, in turn, can expect a jump in interest in them at the beginning of the trading session, since the main layout of the beginning of the trading session is created on the pre-market.
The duration of the pre-market and post-market is determined by the exchange itself and depends on where they are held. Their duration varies from 15 minutes to an hour.
All trading sessions are divided into four types:
Pacific trading session
Includes two major exchanges in the region: ASX (Australian Exchange) and NZX (New Zealand Exchange). It is characterized by low volatility and a moderate trading rhythm, which affects the reduction of trading risks. This is due to the fact that the trading session falls into a "quiet period" in trading - in the interval between two other trading sessions: American and Asian. The S&P/ASX200 is traded during this trading session.
The trading session runs from 0:00 to 9:00 (GMT+3).
Asian trading session
Includes such major exchanges as TSE (Tokyo Exchange), HKSE (Hong Kong Exchange), SGX (Singapore Exchange). In addition to them, the Asian trading session includes: TASE (Israeli Exchange), BSE (Indian Exchange), Chinese stock exchanges, DFM (UAE) and the Saudi Stock Exchange, as well as KRX (Korean Exchange), SGX (Singapore Exchange) and many others. Among the traded indices: NIKKEI, TOPIX and Hang Seng.
The trading session runs from 3:00 to 12:00 (GMT+3).
European trading session
Most volatile of the trading sessions. Due to the very convenient working hours, it covers the work of several of the largest exchanges in London (LSE), Paris, Zurich, Frankfurt (FWR), Switzerland (SWX), Spain (BM) and Luxembourg. Opening hours overlap with the Asian trading session and the American trading session, which speeds up the quotes. Among the traded indices: DAX, Euro Stoxx, FTSE, FTSE MIB, SMI, CAC 40, IBEX 35, RTSI.
The trading session runs from 10:00 to 18:00 (GMT+3).
American trading session
The largest session in terms of trading volume. Consists of two trading floors: New York (NYSE) and Chicago (CME) and intersects with the trading hours in London. Thus, the American trading session accounts for the bulk of all world trading and the most important market agreements affecting the world economy. Among the traded indices: NASDAQ, Dow Jones, S&P 500, S&P/TSX, XAX Mex, IPC BOVESPA.
The trading session runs from 16:00 to 23:00 (GMT+3).
Opening hours of the main trading exchanges
Chicago Mercantile Exchange (CME). From 18:00 to 02:00
New York Mercantile Exchange (NYMEX). From 16:20 to 22:30
New York Commodity Exchange (COMEX). From 15:50 to 21:30
Intercontinental exchange (ICE). From 16:00 to 23:00
Consortium of European Exchanges (EURONEXT). From 11:00 to 19:30
London International Financial Futures Exchange (LIFFE). From 04:00 to 00:00
European Derivatives Exchange (EUREX). From 10:00 to 00:00
Russian trading systems (RTS). From 10:30 to 18:45
Moscow Interbank Currency Exchange (MICEX). From 10:30 to 18:45
Tokyo Grain Exchange (TGE). From 3:00 to 10:45
New York Stock Exchange (NYSE). From 17:30 to 00:00
National Association of Securities Dealers Automated Quotation Exchange (NASDAQ). From 17:30 to 00:00
American Stock Exchange (AMEX). From 17:30 to 00:00
London Stock Exchange (LSE). From 11:00 to 19:30
Frankfurt Stock Exchange (FWR). From 11:00 to 22:00
Tokyo Stock Exchange (TSE). From 3:00 to 9:00
Hong Kong Stock Exchange (HKSE). From 5:00 to 11:00
Milan Stock Exchange (MIB). From 11:00 to 19:30
Swiss Stock Exchange (SWX). From 11:00 to 19:30
Madrid Stock Exchange (MSE). From 11:00 to 19:30
Despite the fact that exchanges have accurate opening hours, this does not mean that you cannot go online, view new quotes and leave orders. You just need to clearly understand that the left order will be executed only with the opening of the trading session and not before.